The Advantages of a Merchant Cash Advance
Often, growing companies need a cash injection to fund their expansion, or to have some extra capital to work with. Regrettably, for many companies, it is impossible to access the cash for all their business purposes. Normal funding methods involve a great deal of admin before your request will even be looked at. Assessing your application can take even longer. Ultimately, there is a good chance that your request for financial assistance will be turned down for unclear, bureaucratic reasons.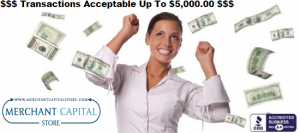 Fortunately, a good substitute method exists for acquiring business funds. Merchant cash advance allows you to get hold of anything from $2500-$250000, based on your company's profile. If your business receives more than $5000 worth of credit card payments from clients on a monthly basis, then you might be eligible to obtain 100-200% of the monthly value of your credit card transactions as an unsecured business loan. Normally, a small percentage (of approximately 10-25%) of your company's credit card takings each day is used to pay back the merchant cash advance.
Only basic documentation is required to submit your funding application. There is no need to be worried if you have a bad credit rating that restricts you from getting a loan from other sources to fund your business goals. You might be able to receive up to $250000 in as quickly as two days, and be allowed to access that cash in less than three days.
This type of unsecured business loan has meant that numerous companies, both big and small, have been able to get the funds they need to enhance and grow their businesses. Neither application charges nor personal collateral are a pre requisite to get loan approval. Unlike repaying a standard loan, you are not required to make any fixed repayments that place extra pressure on you.