Often, growing companies need a cash injection to fund their expansion, or to have some extra capital to work with. Regrettably, for many companies, it is impossible to access the cash for all their business purposes. Normal funding methods involve a great deal of admin before your request will even be looked at. Assessing your application can take even longer. Ultimately, there is a good chance that your request for financial assistance will be turned down for unclear, bureaucratic reasons.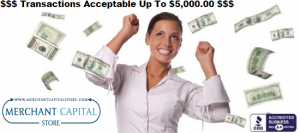 Fortunately, a good substitute method exists for acquiring business funds. Merchant cash advance allows you to get hold of anything from $2500-$250000, based on your company's profile. If your business receives more than $5000 worth of credit card payments from clients on a monthly basis, then you might be eligible to obtain 100-200% of the monthly value of your credit card transactions as an unsecured business loan. Normally, a small percentage (of approximately 10-25%) of your company's credit card takings each day is used to pay back the merchant cash advance.
Only basic documentation is required to submit your funding application. There is no need to be worried if you have a bad credit rating that restricts you from getting a loan from other sources to fund your business goals. You might be able to receive up to $250000 in as quickly as two days, and be allowed to access that cash in less than three days.
This type of unsecured business loan has meant that numerous companies, both big and small, have been able to get the funds they need to enhance and grow their businesses. Neither application charges nor personal collateral are a pre requisite to get loan approval. Unlike repaying a standard loan, you are not required to make any fixed repayments that place extra pressure on you.
If you have a new business and struggling with cash flow as many start-up companies do, you may have considered a bank loan. Traditional loans tend to take a long time to process and many new business owners would not be approved due to past credit problems.
An alternative to bank loans is a merchant cash advance, which can greatly help new businesses that need more money to put into the business. This type of advance works by the lender giving you a lump sum amount with an agreement that the loan is paid back via a percentage of credit card and debit card purchases made in the future.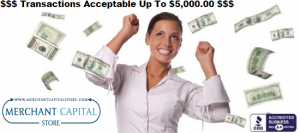 Many retail establishments use the merchant cash advance option. It is important to realize that these loans do carry a higher interest rate than a traditional bank loan. However, since it is paid back from future transactions, it often makes it easier for a business to pay.
The payments and percentage paid to the lender changes each month as the sales of the business changes. If one month sales are $5000 and the next month sales gross $10,000, the higher sales month will have a higher loan payment.
Because the cash advance offers such flexibility, it makes it much more convenient for some businesses. A bank loan is a set payment that doesn't fluctuate with the business as a cash advance loan does. This is another reason it us typically quite an attractive option for many newer businesses.
Another important benefit is the loan is processed faster than a bank loan. This means that access to the cash is accessible sooner.
The amount of the loan is normally based on the sales the business has on a monthly basis. Once the lender has access to this information, they will make a determination on the amount of cash you are eligible to borrow.
Frequently, expanding businesses require an extra injection of cash to finance their growth, or for extra working capital. Nonetheless, much of the time it is not possible to access the money for all these business requirements. Standard methods of funding involve a lot of paperwork before your application will even be considered. Processing your request can occupy even more time. In the end, there is a high probability that your funding request will be declined for dubious, technical reasons.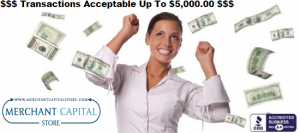 Happily, there is an excellent alternative available for obtaining business capital. Merchant cash advance is a straightforward concept that enables you to acquire funds ranging from $2500.00 to $250,000.00, depending on the profile of your business. If your company takes over $5000.00 in credit card payments from your customers every month, then you could reasonably expect to receive funds from 100% to 200% of your monthly credit card turnover in an unsecured loan for your company. Typically, a modest portion (of about 10% to 25%) of your credit card processing is used each day for repaying the merchant cash advance.

Merchant cash advance only require basic documents to process your application. You do not need to be concerned if your poor credit score is restricting you from receiving the funds you require to finance your business objectives. You could be approved for as much as $250,000.00 in as quick a time as 48 hours, and be able to access that money in under seventy two hours.
These unsecured business loans have helped several large and small companies obtain the funding they require to improve or expand their business. No personal collateral or application charges are necessary to be approved for a loan. In contrast to normal loan repayments, you do not need to make fixed payments which place additional burdens on you.